Developing a Research Program: The Road not Taken
A valuable research program for the discipline of nursing is one that is knowledge driven and not method limited. At each juncture, the progression of a program of research can take many different paths. The nurse researcher may need to change from inductive to deductive methods or vice versa depending on the research question that drives the next study. The sequence of studies in a research program is not fixed ahead of time. Examples from my program of research on postpartum mood and anxiety disorders will be shared to illustrate points about developing a successful and valuable research trajectory.
Cheryl Tatano Beck, DNSc, CNM, FAAN
Distinguished Professor, University of Connecticut, School of Nursing
Dr. Beck holds a Bachelor of Science in Nursing degree from Western Connecticut State University, and she received her Master of Science degree in Maternal-Newborn Nursing from Yale University. Dr. Beck is a certified nurse-midwife and received her certificate in nurse-midwifery from Yale University. Her Doctor of Nursing Science degree is from Boston University.
She is a fellow in the American Academy of Nursing and is inducted into the Sigma Theta Tau International Nurse Researcher Hall of Fame. She has received numerous awards, including AWHONN's Distinguished Professional Service Award and AWHONN's Award of Excellence in Research. She recently received the Marce´ Medal, the highest award given by the Marce´ International Society for Perinatal Mental Health.
This medal recognizes her outstanding contributions to understanding perinatal mood and anxiety disorders. She is the Associate Editor, Qualitative Methods, for the Journal of Obstetric, Gynecologic, & Neonatal Nursing. Over the past 40 years, Dr. Beck has focused her efforts on developing a research program on postpartum mood and anxiety disorders. Dr. Beck developed the Postpartum Depression Screening Scale, which is used internationally. She is a prolific writer who has published more than 160 journal articles.
Dr. Beck's award winning books include Postpartum Mood and Anxiety Disorders: A Clinician's Guide; Nursing Research: Generating and Assessing Evidence for Nursing Practice; Essentials of Nursing Research: Appraising Evidence for Nursing Practice; Traumatic Childbirth; Routledge International Handbook of Qualitative Nursing Research; Writing in Nursing; Introduction to Phenomenology: Focus on Methodology; and Secondary Qualitative Data Analysis in Health and Social Sciences.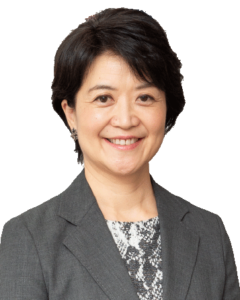 The Trajectory of Intervention: Integration of Subjective "Voices"
People are shaken up before new experiences. Those who are in transition in their developmental stages or those who have been diagnosed and are walking through their illnesses can experience a variety of anxieties. I realize from supporting such people that it is important to find their strengths and to embrace new experiences without fear.
I would like to talk about how the actual voices of my clients have made me aware of and consider interventions.
Chair: Mari Ikeda, PhD, RN, CCP
Division of Health Sciences and Nursing
Graduate School of Medicine, The University of Tokyo
Prof. Ikeda is a nursing researcher with a uniquely integrated career. She has experience in product development and marketing using her expertise, followed by a career at the Ministry of Health, Labor and Welfare. Using her qualification as a clinical psychologist, she worked in educational consultation rooms and clinics, providing consultation services for mothers and children.
Prof. Ikeda is a well-established expert in developing a program addressing postpartum mood among new mothers, using both qualitative and quantitative research methods, focusing as well on the broader family-level effects. She also worked on incorporating lessons learned through her program development study into group therapy for cancer patients and families. Prof. Ikeda has expertise in a range of research methodologies including quantitative, qualitative, and observational interview methods. She offers training sessions for Attachment Style Interviews (ASI) which reveals the foundation of the secure base of a person. She is currently the Chair of the East Asia Forum of Nursing Scholars (EAFONS), and Chair of the International Activity Promotion Committee at the Japan Academy of Nursing Science (JANS).